APLN Webinars on Cooperative Solutions for North Korean Denuclearization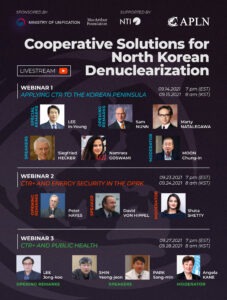 The Asia-Pacific Leadership Network (APLN), with support from the Nuclear Threat Initiative (NTI), hosted three online webinars in September 2021 on the potential for an effective Democratic People's Republic of Korea (DPRK) Cooperative Threat Reduction plus (CTR+) initiative. Sponsored by the Republic of Korea (ROK) Ministry of Unification and the MacArthur Foundation, the first webinar featured special remarks by ROK Minister of Unification Lee In-Young on the topic, "CTR and the Future of Denuclearization in Korea."
The Cooperative Threat Reduction (CTR) program was created by the United States Senator Sam Nunn and Senator Richard Luger after the dissolution of the Soviet Union to provide financial assistance and technical expertise to secure or eliminate nuclear weapons and other weapons of mass destruction. The former Soviet Union was focused on the need to transition the nuclear weapons complex to non-nuclear weapons work, and to reduce nuclear risk from migration, materials leakage, etc. This is also the case with the DPRK, but the complex is much smaller; and the opportunities for gainful nuclear-related employment in nuclear weapons or nuclear power is low to zero.
The need to supplement CTR-nuclear with other strategic benefits in the DPRK also diverges substantially from the former Soviet Union's case. Thus, the CTR equation and DPRK calculus are different, and missiles and space, energy, and public health are an integral part of that difference. We refer to such an expanded version of CTR for the DPRK as CTR plus (CTR+).
During the webinars, senior experts from ROK and US spoke on how to conceptualize and implement CTR+ in the context of a renewed diplomatic approach to the DPRK.
The first webinar, "Applying CTR to the Korean Peninsula," was held on Wednesday 15 September, 8am KST. Opening remarks was be given by Senator Sam Nunn, Chair of Nuclear Threat Initiative (NTI), Marty Natelagawa, Chair of APLN and former Foreign Minister of Indonesia. Moderated by Chung-in Moon, Vice-Chair of APLN and Chair of the Sejong Institute, this webinar featured presentations by Dr. Siegfried Hecker, former Director of Los Alamos Laboratory and Dr. Namrata Goswami, independent scholar on space policy. Watch the webinar here.
The second webinar, "CTR+ and Energy Security in the DPRK," was live on Friday, September 24, 8am KST featuring opening remarks by Dr. Peter Hayes, Director of Nautilus Institute, and presentation by Dr. David Von Hippel. Moderated by APLN Executive Director, Ms Shata Shetty, this webinar discussed how CTR can be linked to energy sustainability and prosperity in the DPRK and potential for converting military work to civilian in the energy domain. Watch the webinar here.
The third webinar, "CTR+ and Public Health," commenced with opening remarks by Professor Jong-koo Lee, former Director of the Korea Disease Control and Prevention Agency (KDCA) and current Professor at Seoul National University College of Medicine. Moderated by Angela Kane, former UN High Representative for Disarmament Affairs and current NTI Sam Nunn Distinguished Fellow, this webinar featured expert presentations by Professor Shin Yeong-jeon, Hanyang University School of Medicine, on "Northeast Asian Public Health Initiative," and Professor Park Sang-min, Seoul National University College of Medicine, on "DPRK's Covid-19 Outbreak Update, and DPRK Public Health Sector Priorities and Resource Requirements." Watch the webinar here.
All three webinars were followed by private, closed-door workshops.
As part of this project, the following special reports are being published.
David von Hippel & Peter Hayes: "Provision of Humanitarian Energy Efficiency, Renewable Energy, and Micro-grid Measures to the DPRK as Complementary to Engagement-focused CTR Activities"
Siegfried Hecker: "Comparative Analysis of Soviet/Russia Federation CTR Experience with Challenges of CTR for North Korea"
Namrata Goswami: "Space Engagement and Cooperation with the Democratic People's Republic of Korea (DPRK)"
Sang Min Park: "The Impact of COVID-19 on DPRK's Health System and Future Inter-Korean Biomedical Cluster Cooperation in the Post-pandemic Era"
Young-jeon Shin: "Northeast Asian Public Health Initiative (NEAPHI) Under the Covid-19 Pandemic: Focusing on Inter-Korean Health and Medical Cooperation"