Members
The Asia-Pacific Leadership Network for Nuclear Non-Proliferation and Disarmament (APLN) has over one hundred members from eighteen countries across Asia and the Pacific, consisting of former political, diplomatic and military leaders, senior government officials, and scholars and opinion leaders. APLN aims to inform and energize public opinion, especially high-level policymakers, to take seriously the very real threats posed by nuclear weapons, and to do everything possible to achieve a world in which they are contained, diminished and eventually eliminated.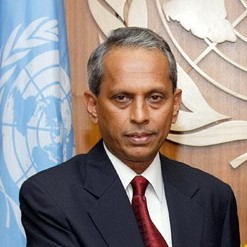 Hewa Matara Gamage Siripala PALIHAKKARA
Former Foreign Secretary and Former Ambassador and Permanent Representative to UN
HMGS Palihakkara has served as the Foreign Secretary of Sri Lanka as well as the Chairman and member of the UN Secretary General.
HMGS Palihakkara retired as Foreign Secretary of Sri Lanka in 2006 after 37 years of civil and diplomatic service.  His last diplomatic assignment abroad was as Sri Lanka's Ambassador and Permanent Representative to United Nations in New York 2008- 2009. He served as a Commissioner on the Presidential Commission on Reconciliation and Lessons Learnt (LLRC) which made recommendations on post conflict peace building in Sri Lanka, while also holding the position of Chairman/member of UN Secretary General's Advisory Board on Disarmament Matters. Palihakkara was also appointed as Governor of the Northern Province by the President of Sri Lanka from 2015 to 2016. 
Palihakkara previously served as Sri Lanka Ambassador and Permanent Representative to United Nations in Geneva and the Leader of Sri Lanka Delegation to the UN Conference on Disarmament (1997-2000) and a member of the CD Delegation in the late 80s and early 90s. He was a member of the UN Sec. General's intergovernmental panel that updated the UNSG's Comprehensive Study on Nuclear Weapons (1990-91). He also has experience serving as the Ambassador to Thailand, Cambodia, Laos, Vietnam and Permanent Representative to Economic and Social Commission for Asia and the Pacific (ESCAP), Bangkok, 2000-2004. 
Palihakkara has also served as the Director General of Multilateral Affairs at the Foreign Ministry in Sri Lanka from 1995 to 1997, covering inter alias work relating to preventive diplomacy, peace building, arms control/disarmament and non-proliferation issues, including being an advisor to the President of NPT Review/Extension Conference.