[WMD] APLN and Global Asia: Fragile Security and Weapons Threats in the Asia-Pacific
The WMD Project is an ongoing endeavour by the APLN's network of experts to assess regional security issues, proliferation challenges, and flash points in the Asia-Pacific.
The June 2021 edition of Global Asia journal was published featuring nine short essays from an APLN project on assessing WMD threats in the Asia Pacific. The essays are drawn from longer research papers written for the WMD project by APLN members, experts, and policy practitioners assessing nuclear, chemical, and biological proliferation challenges and flashpoints; prospects and challenges to DPRK denuclearization; missile and space weapons proliferation; and the Indo-Pakistan nuclear confrontation.
All of the project's papers will soon be published as APLN special reports and form part of an up-to-date technical and policy compendium identifying WMD risk reduction, non-proliferation, and disarmament strategies.
The following essays are featured in the Global Asia special edition. Read the full issue here.
1. Biological Weapons and Nuclear Deterrence in the Pandemic Era by Richard Pilch & Miles Pomper
2. Nuclear Command, Control and Communications in the Asia-Pacific By Peter Hayes
3. Myriad Risks: Nuclear Doctrines in the Asia-Pacific By Petr Topychkanov
4. Going Nuclear in the Taiwan Strait? By Robert Ayson
5. Time for a Trialogue: The Need for Restraints Involving India, China and Pakistan By Feroz Hassan Khan
6. Is a Nuclear Domino Effect in Northeast Asia a Real Possibility? By Chung-in Moon & Sue Jeong
7. Imagining the Possible: Prospects for the Nuclear Ban Treaty in the Asia-Pacific By Richard Tanter
8. Banning Chemical Weapons in the Asia-Pacific: Scientific Progress vs. Political Will By Jonathan E Forman & Alexander Kelle
9. The Proliferation of Space Weapons Among Asia-Pacific Nations By Namrata Goswami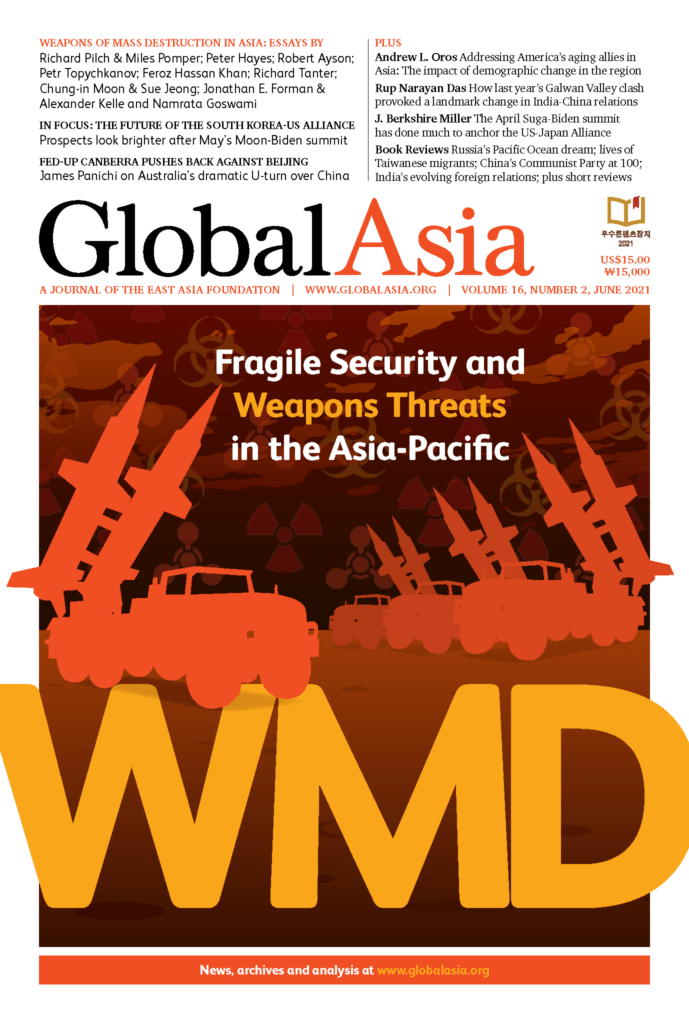 Image: APLN/iStock, Alexyz3d.