Members
The Asia-Pacific Leadership Network for Nuclear Non-Proliferation and Disarmament (APLN) has over one hundred members from eighteen countries across Asia and the Pacific, consisting of former political, diplomatic and military leaders, senior government officials, and scholars and opinion leaders. APLN aims to inform and energize public opinion, especially high-level policymakers, to take seriously the very real threats posed by nuclear weapons, and to do everything possible to achieve a world in which they are contained, diminished and eventually eliminated.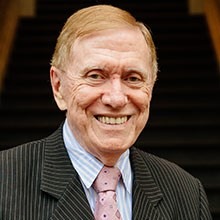 Michael KIRBY
Former Chair of the UNHRC Commission of Inquiry on DPRK
Michael Kirby is an Adjunct Professor at the College of Law & Justice at Victoria University and the Former Chair of the UNHRC Commission of Inquiry of DPRK
Michael Kirby was Australia's longest serving judge when he retired in 2009 from the High Court of Australia – the nation's Federal Supreme Court.  In his judicial career he served as President of the Court of Appeal of New South Wales and concurrently Solomon Islands; as a judge of the Federal Court of Australia; and as inaugural Chairman of the Australian Law Reform Commission.
Even whilst serving as a judge he took part in many international offices and they have increased since 2009: Chair of the OECD expert groups on privacy and data security (1978-80); Commissioner WHO Global Commission on AIDS (1988-92); Member of the ILO Commission on Freedom of Association, mission to South Africa (1991-2); Special Representative of the UNSG for Human Rights in Cambodia 1993-6; Independent chair of the Malawi Constitutional Conference 1994; President of the International Commission of Jurists (1995-8).
Recently, he has served on: The Commonwealth Eminent Persons Group (2009-11); The UNDP Global Commission on HIV and the Law (2011-12); Chair of the UNHRC Commission of Inquiry on DPRK (North Korea) (2013-14); Member of the UNSG's High Level Panel on Access to Essential Medicines (2015 -16 ); UNAIDS/OHCHR's panel on overreach of criminal law (2017); and Co-Chair of the International Bar Association's Human Rights Institute (2018 - 2021). Most recently, he has been participating in celebrations of the Commonwealth of Nations on the adoption of the Charter of the Commonwealth to provide values agreed by CHOGM and members states.  Also in 2023, he has participated in several meetings on the 10th anniversary of the establishment of the Commission of Inquiry on North Korea.