Members
The Asia-Pacific Leadership Network for Nuclear Non-Proliferation and Disarmament (APLN) has over one hundred members from eighteen countries across Asia and the Pacific, consisting of former political, diplomatic and military leaders, senior government officials, and scholars and opinion leaders. APLN aims to inform and energize public opinion, especially high-level policymakers, to take seriously the very real threats posed by nuclear weapons, and to do everything possible to achieve a world in which they are contained, diminished and eventually eliminated.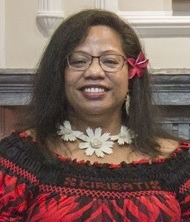 Tessie LAMBOURNE
Honorable Tessie Eria Lambourne is an I-Kiribati civil servant, diplomat, and politician.
Honorable Tessie Eria Lambourne is an I-Kiribati civil servant, diplomat, and politician. She is currently the leader of Kiribati's main opposition party. She has been a member of the House of Assembly since April 2020. She was formerly Kiribati's Ambassador to the Republic of China from June 2018 to September 2019 and Secretary to the Cabinet, the highest position in Kiribati's civil service, from August 2016 until June 2018.
Lambourne was educated at the University of Auckland in New Zealand, where she graduated with a Bachelor of Arts (Political Studies) in 1994. She subsequently received a Masters in International Law and Politics from the University of Canterbury in 2007. She worked in the civil service from 1991, serving in a number of prominent positions, including Secretary for Internal Affairs, Private Secretary to President Teburoro Tito, Secretary for Foreign Affairs and Immigration, and lastly as Secretary for Commerce, Industry, and Cooperatives.
She was appointed Secretary to the Cabinet by President Taneti Maamau in August 2016. She continued in this role until she became the country's second ambassador to the Republic of China in June 2018, but her tenure was ended by the breakdown of diplomatic relations between Kiribati and Taiwan on September 20, 2019.
She was elected to the House of Assembly at the 2020 Kiribati parliamentary election in April 2020, winning "decisively" with a first-round majority.