Members
The Asia-Pacific Leadership Network for Nuclear Non-Proliferation and Disarmament (APLN) has over one hundred members from eighteen countries across Asia and the Pacific, consisting of former political, diplomatic and military leaders, senior government officials, and scholars and opinion leaders. APLN aims to inform and energize public opinion, especially high-level policymakers, to take seriously the very real threats posed by nuclear weapons, and to do everything possible to achieve a world in which they are contained, diminished and eventually eliminated.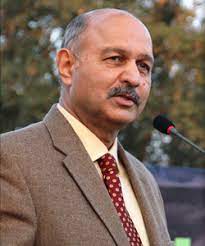 Mushahid Hussain SAYED
Pakistan Senator from Islamabad Capital Territory
Mushahid Hussain served as the Minister for Information and Chairman of the Foreign Relations Committee in the Pakistani Senate and now serves as Chairman of the Defense Committee.
Mushahid was raised in a progressive and forward looking atmosphere, where quality education and hard work were of central focus. He received his Bachelors degree from Former Christian College, from whereon he went to the United States to pursue a Master's degree from the School of Foreign Service in Georgetown University at Washington. While studying in the US, he was President of the Pakistan Students Association and was awarded a Congressional Internship to work in the United States Congress.
After completion of studies in the United States, he returned to Pakistan and became Member, Directing Staff of the country's prestigious training institution for civil servants, the Pakistan Administrative Staff College, where he trained new entrants to the Foreign Service. He then joined Pakistan's oldest seat of learning, the Punjab University, as Lecturer on International Relations in the Political Science Department.
In 1982, at age 29, he became the youngest Editor of a national English daily, The Muslim, published from the capital Islamabad, which was respected for its independent positions. The world's leading human rights organization, Amnesty International, declared him a 'Prisoner of Conscience' making him the first such Pakistani to be so honoured for the year 2000.
As a specialist on international, political, and strategic issues, he has lectured widely and his articles have been published in various national and international publications including The New York Times, The Washington Post, International Herald Tribune, and Middle East International. He has also authored three books. He is a Member of the Board of Governors of Islamabad Policy Research Institute (IPRI), a leading think tank. He was Pakistan's Representative to the Commission of Eminent Persons, set up by the Organization of Islamic Conference (OIC) for its reform in 2004-05. He is also the Vice President of the Centrist Democrat International (CDI) Asia – Pacific Chapter. On January 27, 2006, he was awarded the Congressional Medal of Achievement by the House of Representatives of the Republic of the Philippines.
Currently he is serving as the senator, on a Pakistan Muslim League (Q) platform, to Senate of Pakistan. He is also the Secretary-General of the Pakistan Muslim League (Q).